It all started with the question:
"How could the water sector work together
to reduce energy costs and emissions?"
About Zero Emissions Water
Zero Emissions Water (ZEW) came to life through the Intelligent Water Networks (IWN) program, which is a partnership between:
VicWater
18 Victorian water corporations, and
Department of Environment, Land, Water and Planning.
The IWN investigates new technologies and innovations to meet common challenges in a more efficient manner.
The IWN working group for Energy and Emissions met in 2016 and posed the question "How could the Water Sector work together to reduce energy costs and emissions?"
The answer was to initiate the Large-Scale Renewable project which led to:
An options assessment on ways to reduce energy costs and emissions that recommended water corporations aggregate their renewable energy requirements to access the wholesale generation market
A feasibility study on how best to structure a direct purchase from a renewable energy generator
An expression of interest to sound out market opportunities and shortlist renewable energy projects and developers
A final tender process with the shortlisted developers to contract directly with a renewable power station
The outcome of the IWN Large-Scale Renewable project is that from October this year, 13 participating water corporations will purchase solar power together from the Kiamal Solar Farm in north-west Victoria under a new umbrella organisation called Zero Emissions Water (ZEW).
Purchasing as one large organisation means the water corporations will procure energy at a cheaper rate compared to going it alone. The expected savings from this deal will help water corporations to offset rising energy costs, which in turn will help to keep customer bills down.
The ZEW partnership demonstrates that Victorian water corporations are leading the way to reduce operational costs and emissions. The innovative structure of this deal is the first of its kind in Australia and is a major step forward towards the sector achieving net-zero emissions by 2050.
Media Release
Damian Wells
Chair of Zero Emissions Water and Managing Director of Coliban Water
4 October 2022
WATER CORPORATIONS REDUCE EMISSIONS WHILST PUTTING DOWNWARD PRESSURE ON PRICES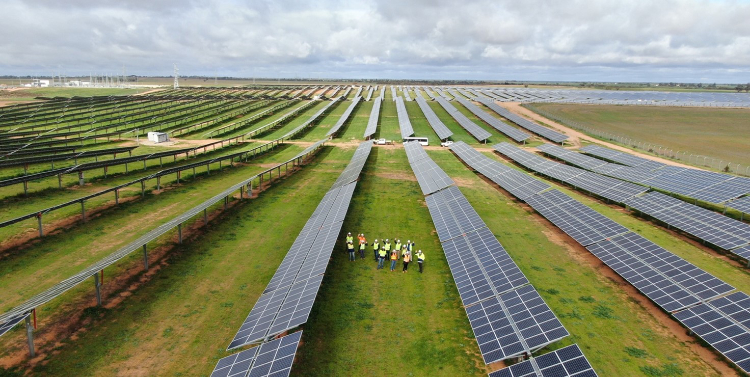 ZEW site visit to Kiamal Solar Farm, May 2022.
Twelve of Victoria's Water Corporations are working together through the Zero Emissions Water (ZEW) joint venture to source renewable electricity and reduce their emissions.
In August the Minister for Water, Harriet Shing, officially launched the Statement of Obligations (Emissions Reduction). Each water corporation has set a net zero target that will be achieved in either 2025, 2030 or 2035. The industry as a whole must achieve net zero emissions by 2035.
ZEW was established to collectively purchase renewable energy from the Kiamal Solar Farm at Ouyen, Victoria's largest solar farm. The facility has been in operation since January 2021, supplying ZEW members with renewable energy well below recent market prices.
The project is underpinned by a Power Purchase Agreement (PPA) to procure renewable electricity, with the renewable component measured by Large-Scale Generation Certificates (LGCs). Each certificate represents 1 megawatt hour (MWh) of renewable electricity that ZEW members can use to reduce their grid-based emissions.
Under the PPA, the price for LGCs is much lower than the current market price, which is projected to remain high. This means members are getting a good deal on LGCs.
The deal includes a Contract for Difference that sets electricity prices with Kiamal Solar Farm. The recent energy crisis has seen electricity prices skyrocket, and the PPA has provided protection against these elevated prices.
The ZEW contract continues to provide financial benefits for its members, helping to keep downward pressure on customer bills and contribute to decarbonisation of the water sector.
In May, Directors and other key ZEW personnel visited Kiamal Solar Farm. This site visit was an excellent opportunity to see the solar farm in action and get a better appreciation of the size and operations of the farm, which is approximately three times the size of Melbourne's CBD.
Photo shows an ariel view of Melbourne's CBD and Kiamal Solar Farm in the same scale
ZEW looks forward to continuing to realise benefits for its members as they work together to achieve net zero emissions across the water sector.
Quotes attributable to ZEW Chair Damian Wells
"ZEW is playing an important role for its member water corporations in supporting them to pursue their ambitious net zero targets."
"As ZEW and its Power Purchase Agreement is now well underway, it is becoming evident that these arrangements are already providing substantial benefits to member water corporations. We look forward to that benefits realisation continuing out to 2030."